Art and Artifact
Photographer Susan Mikula uses tools from the past to make art for today.
By Cheryl Mazak
When you hear the name Susan Mikula, it always seems to be paired with the celebrity of her partner, MSNBC news anchor Rachel Maddow. But Mikula deserves recognition in her own right—she is a photographer whose work has been shown in galleries in New York, Massachusetts and currently at the George Lawson Gallery in San Francisco.
Unlike most contemporary photographers who rely on the latest technology, Mikula has chosen to go back in time, using antiquated techniques and tools like pinhole cameras and Polaroid film to create her pieces. Thus, her work, in addition to having an ethereal quality also serves as a retrospective of photographic methods.
What is your artistic process like?
I'm very slow. There's no other way to put it. I think about it for a very long time…not as a specific piece as much as what I want overall. Not what will the final result be, but how I feel. I also think about the mechanics of it–what kind of camera I would use, what kind of film. And then, when it's time to take the pictures it happens fast.
Why does using Polaroid film appeal to you?
It has something to do with there being a great democratization of photography. It was the second time that photography was made available to ordinary people. The first was with Tintype photography. So I'm actually learning wet plate collodion photography and hopefully my Polaroid film will hold out until I actually learn how to do that.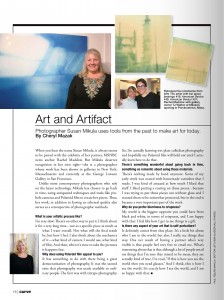 There's something wonderful about going back in time, something so romantic about using those materials.
There's nothing made by hand anymore. Some of my early work was coated with handmade varnishes that I made. I was kind of amazed at how much I liked that stuff. I liked putting a coating on those pieces…because I was trying to put those pieces out without glass and I wanted them to be somewhat protected, but in the end it became a very important part of the work.
Why do you prefer blurriness to crispness?
My world is the biggest opposite you could have from black and white, in terms of crispness, and I am happy with that. I feel like how I get to see things is a gift.
Is there any aspect of your art that is self-portraiture?
It definitely comes from that place. It's a little bit about who I am in the world, but also I really see things that way. One net result of having a partner who's very visible is that people feel very free to email me. What's interesting about that is that although a lot of people email me things that I'm sure they intend to be mean, they are actually kind of true. I've read, "If this is how you see the world then you need glasses." And I think, this is how I see the world, and I am so happy with that.