Artist Susan Mikula finds beauty in industry at the edges
Edie Stull
February 25, 6:46 PM
Artist Susan Mikula is exhibiting American Device: Recent Photographs in San Francisco, Calif., at the George Lawson Gallery, room for painting room for paper, from February 25 – March 27.
The exhibition consists of Mikula's abstract photographs of industry at the edge of the country, at the port and refineries, and on the stretch of industrialized land between Galveston Bay and the Gulf of Mexico.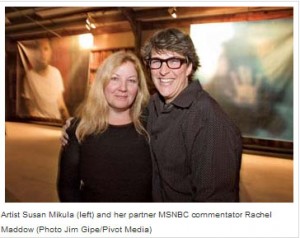 "I'm so drawn to the beauty of these places" says Mikula. "There's an almost mystical ends-of-the-earth, end-of-time feeling about them –  and the light, just off the water, coming from the south and the west, especially in the high heat of summer – there's nothing else quite like it. These places, they're hidden, almost secret. Either we've pushed them out into the no-man's lands on the fringes of our country, or hidden them behind layers of security. "
Mikula shot the images in the summer of 2009 in temperatures over 95 degrees, working with vintage 1970s-era Polaroid cameras and expired, soon-to-be-extinct SX-70 film. The images are printed using archival, pigment-based inks on American-made archival paper. They are mounted on anodized aluminum, with an integrated brace/cleat system on the back that allows the work to hang flat, yet "float" about an inch off the wall.
Mikula lives in rural Western Massachusetts and New York City with her partner, MSNBC commentator Rachel Maddow.