Refined Beauty: Artist Susan Mikula on Finding Beauty in Industry, Exclusive
by Jamie Wetherbe | Article Date: 02/23/2010 10:45 AM
Susan Mikula is having a vagabond week – on the eve of her first show in San Francisco, she's picking up partner Rachel Maddow — perhaps you've heard of her? — from the airport one state over.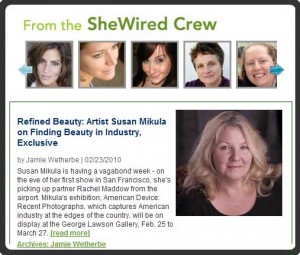 "The dog and I have been going around with our little knapsacks this week," she laughs.
Mikula's exhibition, American Device: Recent Photographs, which captures American industry at the edges of the country, will be on display at the George Lawson Gallery, Feb. 25 to March 27.
"I'm so excited to have a show in San Francisco," she says. "It's my debut show there."
Mikula photographed ports and refineries along the great stretch of industrialized land between Galveston Bay and the Gulf of Mexico known as the Bolivar Peninsula, including Port Arthur, Texas, and SoCal's Port of Long Beach. Both date back to the early 1900s.
"I picked those specific areas because they are linked in time," she says.
Highly abstracted, and in her characteristically tight chromatic range, the images in American Device put form front-and-center with gantry cranes, shipping containers and cat-walked refinery towers.
"I'm so drawn to the beauty of these places – there's an almost mystical ends-of-the-earth, end-of-time feeling about them," says Mikula. "I know when you say 'refinery,' beauty is not what jumps into people's heads, but I've tried to capture that brutalist beauty in these pictures."
For as mammoth as these places are – the 3,200-acre Port of Long Beach moves $100 billion worth of give-and-take every year – they are, for the most part, invisible to outsiders.
"I really tried to convey how amazing and sweeping and oddly private these places are … you see them, but you can't get very close," Mikula says. "They are hidden, almost secret … we've pushed them out into the no-man's lands on the fringes of our country."
Still, says Mikula, we give industry prime beachfront real estate. "(It) represents so much of how we do things in America in a way," she says. "In each of these cases, we have taken oceanfront property in beautiful places and made it industrial, and I think it shows … the pride of place that we give (industry)."
Mikula's images, while taken during a hot, humid summer in 2009, have a far-off feel that makes them seem like relics from a bygone era.
"For all of our great high-tech industries, places like this … are still a part of the lifeblood of our country and our culture," she says. "But there's also no denying that in many ways they're increasingly at odds with our modern times. And that conflict is part of the poignancy that makes them so beautiful to me.
"They're so American," she adds, "So physical and muscular and so vividly still a part of who and what we are as a nation today."
Adding to the other-worldly-feel of her photographs, Mikula shot in temperatures of 105-plus degrees, working with vintage 1970s-era Polaroid cameras and soon-to-be-extinct film.
"These places facing south and facing west (created) truly brilliant hot sun that was multiplied by hitting water," she says. "You have this incredibly brilliant almost blinding light … and that's part of why I picked these particular places."
The images are mounted on aluminum, adding to the element of industry, and are printed on American-made archival paper – a conscious choice, says Mikula.
"It has a patriotic bend to it," she says. "I hope that that will resonate for people."
While American Device is Mikula's first show in San Francisco, the artist, who splits her time between rural Massachusetts and New York City, has had successful exhibitions on the East Coast.
In 2007, Mikula's disquieting photographic installation of 50 original Polaroids – landscapes, portraits, abstract images and "scary mean little animals" – printed on plastic dinner plates, titled Omnivore, was on view at the Boston State House.
Mikula's family also has a predisposition for art. "My sister's an artist … and I've written short fiction."
In 1994, Mikula stumbled upon a Polaroid camera at a thrift shop and moved from words to pictures. "It was just a magic accident," she says. "It was literally as if a beam of sunlight fell on that camera in that junk pile."
As for becoming a photographer, "I really wanted to try it," she says. "I wanted to see if I could take what's in my head and translate it into a picture."
And as for her famous other half, "Rachel is exactly how she is on TV," Mikula says. "She's an incredibly kind and an incredibly good person, and part of that is being really supportive of my work … I'm sure that would be a surprise to people – they think she's involved in her own stuff and wouldn't have the time to be a part of it, but she totally is."
The couple also has no qualms about being out. "The other day someone said to us in casual conversation, 'Well, you know, you guys are gay.' And I turned to Rachel, and in all seriousness, I said, 'We're gay?'
"I think at a certain point, you've been out so long it doesn't figure into it," she says. "We are both lucky enough to be out. There are people who can't do it."
SHOWTIME
American Device: Recent Photographs
George Lawson Gallery, room for painting room for paper
49 Geary, 2nd Floor
San Francisco
Exhibition dates: Feb. 25 – March 27
Opening reception: Thursday, Feb. 25, 5:30 to 7:30 p.m.
Gallery hours: Tuesday through Saturday, 11:00 a.m. to 5:30 p.m.
www.georgelawsongallery.com
susanmikula.com